Celebrated around the world honoring romance and love, Valentine's Day is an occasion to indulge in a fancy meal with your sweetie, go play in the snow, or perhaps practice some self-love. Fortunately, with all the fresh powder that Incline Village/Crystal Bay just received, you and whoever you want can do all of this in one day. Here are some places and activities to help you commemorate this dia de San Valentin:
Fun (and Mostly) Free Valentine's Activities in Incline Village/Crystal Bay
In late January, Mother Nature blessed us with 4-6 feet of fresh new snow which makes playing outside with your closest pals in this winter wonderland truly special. Consider taking your loved one snowshoeing on the East Shore down to one of the beaches (accessible via the East Shore Trail) and build a snowman or sandcastle when you get there.
If you're looking for something more adventurous, go on a snowmobile tour in Zephyr Cove or take a ski/snowboard lesson at Diamond Peak so you can take in the spectacular views of Big Blue from one of the many snow-covered vantage points.

Where to Practice Some Self-Love on Valentine's Day (and you can bring your loved one, too)
Or, if you've been on the other end of the recent snowfall and have been shoveling for days, then your muscles are probably tired. Treat yourself to a relaxing massage from Incline Village Massage and Body Works or Massage Tahoe.
Aloha Skin Spa on Northwood Boulevard also offers a variety of massages including hot stone and warm bamboo versions as well as facials, waxing, and incredible body treatments like seaweed wraps and sugar scrubs specifically designed to rejuvenate tired skin and ease overworked muscles.
Stillwater Spa & Salon at the Hyatt Regency Lake Tahoe are also masters at relaxation, providing its guests, locals, and visitors with massages, body treatments, and more on its private beach, amongst the pines, or in the comfort of its temperature-controlled space.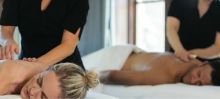 Under new ownership, The Sanctuary Tahoe across the street (and the state line) from the Tahoe Biltmore offers all kinds of wellness services ranging from yoga and massage to acupuncture sessions. Currently open and accepting reservations, The Sanctuary is also running a special…it's just $60 for 30 days of yoga classes for newbies.
Where to Enjoy a Fancy Meal
After a day of playing outside or being pampered, top Valentine's off with a romantic and memorable meal in Incline. For chocolate and cheese lovers, La Fondue makes any occasion- or no occasion at all- an experience. Along with offering the classic edible dipping sauces, La Fondue has a full European-style menu for those who don't wish to play with their food.
Tucked into the back of the Country Club shopping center is Le Bistro, a fine dining restaurant that serves classic French cuisine with a pan-Asian twist. Managed by longtime Tahoe chef David Blair, his team regularly creates edible works of art in the form of foie gras, filet mignon, and fresh fish. All meals are also served with freshly baked bread made by in-house pâtissier Liesl.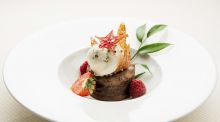 At the end of Country Club Drive, Lone Eagle Grille is perched on its own private beach on the shores of the lake thus giving its guests truly awe-inspiring views of all of Tahoe's splendor. Its Valentine's Day 2021 menu includes: an appetizer of seared scallops, charred onion soubise, and braised bacon, cilantro chimichurri ($27); followed by an entrée of mesquite grilled lamb and Merguez cassoulet accompanied roasted baby carrots, watercress coulis, and topped with pomegranate molasses ($58), finished off by a dark chocolate berry entremets St. Germain crème anglaise held together by chocolate shortbread and fresh berries, all nut-free and vegetarian ($17).
For casual yet elegant dining, consider visiting Bite Restaurant & Bar on 907 Tahoe Boulevard right in the middle of town, which serves American-style tapas, sliders, and wine. A few miles northwest of Incline Village, Crystal Bay Steak and Lobster House on the border of California and Nevada is also open for- you guessed it- moderately priced steak and lobster.
More in the mood for a nightcap and a delectable morning-after meal? Consider visiting the intimate Glasses Wine Bar on 760 Mays Boulevard Suite 8 and/or enjoy a fulfilling breakfast or lunch made with locally sourced ingredients at Sage Leaf located at 893 Tahoe Boulevard Suite 600 across from Starbucks.
Love Your Community? Get involved by sharing your opinion in the Virtual Town Hall
The Tahoe Transportation District is hosting a Virtual Town Hall meeting to talk about how to make getting around Incline Village/Crystal Bay more accessible via public transportation and is asking residents to give their opinion and possible solutions for the best spot to place a transit hub in Incline Village. The virtual meetings to talk about the Lake Tahoe Basin Transit Master Plan are being held Thursday, February 11 at 7pm; Friday, February 12 at 2pm; Thursday, February 25 at 7pm; and Friday, February 26 at 2pm. Click here to register for a meeting.
Whatever you decide to do on Valentine's Day just be sure to call ahead to make reservations, stay safe and have fun. xoxo