The weather in Incline Village/Crystal Bay has been gorgeous this past month, prompting people to pull off their boat covers and get ready to bask in the sun off the shores of Big Blue. Waterman's Landing in Carnelian Bay is inviting everyone to come out and rent some paddleboards and kayaks for its Opening Day on the Lake May 16, and then Lake Tahoe will likely be full of activity by Memorial Day Weekend (May 29-31). Therefore, if you're itching to get your boat out, here is some information on local boat storage spaces, boat ramps, and services in and around Incline Village/Crystal Bay to help you get your summer started out on the lake:
Local Boat Storage Companies
Located on 875 Oriole Way in Incline Village, Incline Boat Storage & Marine offers boat owners a fully enclosed space to safely store their boats in the winter. Storage rates range from $2100-$3300 for the offseason depending on size, and all boats must have their own trailer. Incline Boat also stores jet skis and can help launch and/or retrieve your watercraft. 
Next to Incline Boat Storage & Marine on Oriole Way, Crystal Bay Marine offers similar services of storing, launching, fixing, cleaning, and getting boats out of the lake. It provides limited inside and outdoor space for storage as well as maintenance and repair services; in the summer it asks its established customers to give them 24 hours' notice to schedule a launch.
Both boat storage businesses are conveniently located a half-mile away from the Ski Beach boat ramp.
Lake Tahoe Boat Ramps*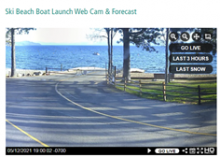 The closest launch ramp to Incline Village/Crystal Bay residents is the Ski Beach boat ramp at 967 Lakeshore Boulevard. However, keep in mind that this ramp is only accessible to those with an IVGID Picture Pass or Punch Card. The launch ramp is open from 9am-6:30pm daily and costs $22. Annual launch passes are available for $225 and IVGID also provides local boaters a glimpse as to the lake conditions in real time via its webcam.
For those who don't have an IVGID Picture Pass or Punch Card, fortunately there are some other boat ramps nearby. Sand Harbor opened its gates on May 1 and has two dedicated boat ramps with a dock for anglers, waterskiers, wakeboarders, and other water enthusiasts (just make sure to claim your parking spot early before it reaches capacity, especially on the weekends). Cave Rock also has boat ramps further down on the East Shore closer to Zephyr Cove.
Over on the California/North Lake Tahoe side, the Tahoe Vista Recreation Area has a nice single-lane launch ramp protected by a small harbor that accommodates motorized vessels up to 25 feet in length. However, keep in mind that the ramp is currently closed due to construction and is expected to open back up May 21. The daily launch fee is $25 for nonresidents.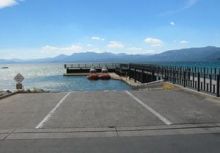 On the outskirts east of Tahoe City, the little Lake Forest community also keeps a boat launch with three lanes in an enclosed harbor, next to the Coast Guard Station. What's nice about launching at the Lake Forest Boat Launch is that you have closer access to amenities and restaurants on the West Shore with the ability to dock your boat at places like Sunnyside, the Tahoe City Marina, or Chambers Landing. However, the cost to launch here is a little bit more for non-TCPUD residents and the Placer County Sheriff is known to come by and ticket people for expired trailer registrations.
*Before You Launch, Get Your Boat Inspected
Around 10 years ago, an invasive species of Quagga and zebra mussels were introduced to Lake Tahoe that unfortunately took over and affected the lake's clarity, prompting a boat inspection program to be initiated to help stop the spread. Before any boat is launched in Lake Tahoe, it must undergo a thorough cleaning through Tahoe Boat Inspections at a designated inspection station (the closest Inspection Station to Incline Village/Crystal Bay is at Spooner next to the Highway 50 intersection heading to South Lake Tahoe).
However, there is a cost to this…the program keeps track of boats coming in and out of the lake by offering a Tahoe In & Out pass that allows you to launch your boat in Lake Tahoe or other lakes throughout the summer which costs $60-$100 depending on the size of your boat. A Tahoe Only sticker is a bit cheaper for those that just take their boat out on Big Blue. Visit www.TahoeBoatInspections.com for more information about launching in Lake Tahoe before going to a boat ramp because if you don't have a proper seal then you'll likely be turned away.
Know Before You Go
The water temperature on Lake Tahoe is around 52 degrees, but as the air temperature warms up it's tempting to want to get your boat out on the water as soon as possible. Just make sure that you do your homework…get your boat inspected, watch the weather, and establish the best place for you to launch your watercraft to ensure that you have the perfect day on the lake. Happy Motoring!