School's out for summer and residents and visitors alike are starting to emerge from the pandemic, vaccinated and unmasked. To top it all off, the weather has been gorgeous; mild air temperatures and sunny skies coupled with loosened social distancing requirements are encouraging people to come out and beat the heat in Incline Village/Crystal Bay.
However, if you have kids that are out of school or people coming into town who need to be entertained, it can be kind of be challenging to figure out how to fill up their Tahoe summer days. Therefore, here are some options of how to keep family and guests busy here on the northeast shore:
Go to the Beach!
Lake Tahoe has more than two dozen public beaches that dot Big Blue's 72-mile shoreline, and several are located within the Incline Village/Crystal Bay area. Between Kings Beach and Crystal Bay, there's a nice little beach called Speedboat (located off Speedboat Drive accessible via Highway 28) that features a sandy shore and big boulders to suntan on off in the water.
There are also three private beaches in Incline Village, restricted to residents who have an IVGID Picture Pass or punch card. The IVGID Recreation Center has more information about who qualifies for this privilege. Fortunately, there are other publicly accessible beaches in close proximity if you don't have information about how to get into IVGID's beaches already.
For instance, on the far eastern side of Incline Village, you can also park in the lot in front of the Tunnel Creek Café and do the bike or walk to Sand Harbor State Park via the Tahoe East Shore Trail. This paved path also passes several small tucked away shoreline hideouts, such as Hidden Beach, Chimney Beach, and Secret Cove.
If you don't feel like trekking all your beach umbrellas and lawn chairs all the way down to the beach, though, there's also the new FlexRIDE bus service that runs from Incline Village to Sand Harbor. Click here to view the route information, or if you're driving yourself you can also visit www.tahoepublicbeaches.org to see the full list of Tahoe's public beaches.
Sign Kids Up for a Summer Camp Through the IVGID Recreation Center
From basketball, soccer, mountain bike, and skateboarding camps to lifeguard training programs, the Incline Village Recreation Center has something for kids of all ages. Excellent coaches keep kids active and productive while teaching them life skills along the way.
The fully equipped Tennis Center next to the Rec Center also provides USTA Quick Start Youth Tennis Camps for kids ages 6-12 as well as a Competitive Junior Tennis Academy for budding athletes ages 8-11 who want to take their game to the next level.
To see the full list of programs and how to register your little ones or teenagers, visit https://www.yourtahoeplace.com/parks-recreation/programs/day-camps.
Join the Incline Village Library's 2021 Summer Reading Challenge
The Washoe County Library System recently launched its 2021 Summer Reading Challenge, inviting readers of all ages to join. The first 1600 kids who sign up for the challenge through the library (located at 845 Alder Avenue in Incline Village) will receive a book bag, a book, craft supplies, and a reading log/bingo card to help track their progress.
Along with the Summer Reading Challenge, the library is also including a slew of interactive activities and virtual events, such as the daily Virtual Story Time and weekly Book Hook where librarians share good books to put on your reading list. Click here to find out more about the Challenge and how to win prizes.  
Take a Tour (of a Historic Site in Tahoe)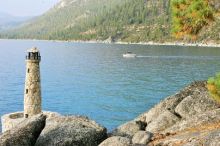 If you have aging family members who are content to just sit around and do nothing but bask in Tahoe's clean air yet are maybe interested in seeing some low-impact attractions while they're in Tahoe, consider taking them on a tour of a historic or scenic location. The M.S. Dixie II paddle-wheeler takes people on cruises leaving from Zephyr Cove and going to Emerald Bay and back, and there are also amazing mansions such as Vikingsholm and the Hellman-Ehrman mansion at Sugar Pine State Park on the West Shore.
If you don't want to drive too far and are more interested in the history related to Incline Village and Crystal Bay, then the Thunderbird Lodge is a must-visit. Unfortunately, as of publication of this article the tours have been put on pause due to COVID-19, but things may have changed; you can always check its website https://thunderbirdtahoe.org/ for updates and special events.
Another option is to visit the Incline Village & Crystal Bay Historical Society on 899 Tahoe Boulevard in Incline Village to get a glimpse of what's in George Whittell's estate. The Incline Village Crystal Bay Visitors Bureau on 969 Tahoe Boulevard is also a great source for what to do in the area, plus it sells Tahoe essentials such as water bottles, sunscreen, and dog items as well as locally made gifts.
There's So Much to Do This Summer
Even if the pollen or windy days affect your beach and outdoor time, there is still so much to see and do in Incline Village/Crystal Bay. From souvenir and thrift shops to bars and restaurants, everything is now reopened and welcomes your patronage. Now let's get this summer started!