Last December, the Tahoe Fund and Raley's launched a new campaign with social media platform PixlBank to help promote responsible tourism and urge residents and visitors to reduce their plastic waste that ends up in the basin. It is focused on the Tahoe Fund's "Drink Tahoe Tap" and overarching "I Love Tahoe" initiative (www.ilovetahoe.org).
As part of this campaign, people are encouraged to upload a photo of themselves drinking Tahoe tap water, which is some of the purest in the USA. Those who share their photos to their social media pages will then unlock a $10 donation from Raley's that goes towards installing water refill stations around the lake, along with its other partners including the UC Davis Environmental Research Center and the Tahoe Water Suppliers Association.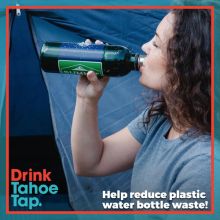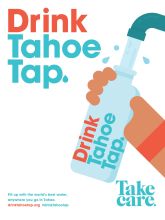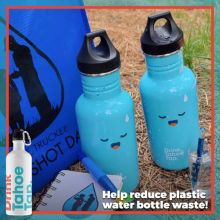 Along with Raley's generous donation towards helping to reduce plastic in Tahoe, PixlBank developed a built-in sweepstakes model that converts peoples' actions (like sharing their Drink Tahoe Tap pictures to social media) into entries to win cool prizes, like a GoPro camera or video drone. 
"This is such a new yet simple concept…every time you post a picture of yourself drinking Tahoe tap water then Raley's gives $10 to the cause," Berry says. 
This campaign is also an extension of the existing partnership with Raley's on Tahoe Fund's "Take Care Tahoe" campaign which involves close to 60 regional partners who work together to promote a unified message to visitors and residents about how they can connect with and take care of Tahoe's natural environment. Raley's has pledged to decrease plastic water bottle sales by promoting reusable Drink Tahoe Tap water bottles sold in all its Tahoe stores (including the one in Incline Village). 
"They've committed $50,000 to the Take Care campaign," says Berry, which is comprised of $25,000 to spread the message; $15,000 to fund an AmeriCorps member at the UC Davis Environmental Research Center to work on how to fix the plastics and microplastics issue in Lake Tahoe; and up to $10,000 to install water refill stations in the Tahoe basin. 
"We are always looking for creative ways to encourage people to take care of Tahoe," Tahoe Fund CEO Amy Berry stated in the press release that came out last December. "We think this is a fun way to drive more people to drink Tahoe Tap instead of using plastic water bottles and are thankful to our partners at Raley's for continuing their efforts to get this message out."
For more information about how to post your photos and win cool prizes while helping to protect, preserve, restore, and show your respect for Lake Tahoe, visit www.ilovetahoe.org. For more information about the Tahoe Fund and its Take Care Tahoe campaign, visit https://www.tahoefund.org/.