…and Here are Some Ways to Bloom Where You're Planted
The days are getting warmer and it's that time of the year when it's possible to hike, bike, and snow ski all in the same day. It's also a time to start thinking about how to make your house a home by improving your outdoor space. Therefore, here are some local landscaping companies, nurseries, and home improvement stores that can help you design your yard to be ideal for entertaining, relaxing, or keeping your social distance while hanging out with your favorite people…as well as some tips on how to celebrate Earth Day coming up on April 22nd.
Luna Enterprises, Inc.
Located at 919 Incline Way in Incline Village, Luna Enterprises, Inc. is a family-owned landscaping company that operates in all four seasons helping customers mow lawns, clear snow, trim trees, et cetera, and can also install irrigation and sprinkler systems to keep grass lush and green. Along with providing basic landscaping care, the team at Luna Enterprises can also construct driveways and walking pathways out of concrete, stone, and pavement; it also specializes in building beautiful firepits, retention walls, and water features to make your property truly stand out.
High Sierra Gardens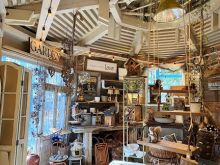 On a mission to "spread springtime cheer" by way of offering freshly cut flowers, High Sierra Gardens at 866 Tahoe Boulevard in Incline Village sells beautiful bouquets and gift baskets that are sure to brighten up any room. Along with selling bursts of blooming color, High Sierra Gardens also provides low-maintenance houseplants that can liven up any office space. Some popular plant varieties that High Sierra Gardens carries include peace lilies, striped dracaenas, and hanging English Ivy greenery.
High Sierra Gardens doesn't get its first truckload of outdoor plants and pottery until mid-May, when the ground in North Lake Tahoe finally starts thawing out. Along with the popular trees and shrubs such as maples, aspens, cedars, and pines, people enjoy decorating their yards with colorful annuals. High Sierra Gardens also carries freestanding and table-sized water fountains, lawn art, bird baths, and a fully stocked gift shop with all kinds of outdoor goodies that complement your blooming foliage.
Village Ace Hardware
Lodged between Pet Station and Raley's, Village Ace Hardware sells all kinds of home improvement items to keep your indoor and outdoor spaces looking fresh and maintained. Last spring at this time during the start of the pandemic, Village Ace had a surge in business from people who were staying at home more and taking on new projects. Although things are starting to open back up, spring gardening tools and sprinkler/irrigation equipment continue to be bestsellers. Village Ace also carries an array of lawn and garden items as well as patio furniture and outdoor living adornments to prepare you for spending the summer outside.  
The Best Ways to Celebrate Earth Day on April 22
Earth Day is arguably one of the biggest holidays for a place like Lake Tahoe considering all the volunteers and work that goes into restoring, preserving, and sustaining the area's natural environment all year long. And whether you are living here or just visiting, there are plenty of things you can do to keep this area pristine and beautiful.
For instance, it makes sense to Drink Tahoe Tap using a reusable bottle, considering we have some of the best tap water in the world (and it saves on harmful plastics ending up in the lake). The Raley's in Incline Village even sells official Drink Tahoe Tap water bottles made by Klean Kanteen in 18-oz. and 27-oz. sizes.
Or plant a tree in your yard and buy your seedlings from the Sugar Pine Foundation, which formed in 2004 to build and restore Tahoe's pine forests. Other organizations like Clean Up the Lake enlist the help of local scuba divers to remove trash from the depths of Lake Tahoe (and based in the South Shore, the League to Save Lake Tahoe also serves to improve the clarity of the lake). Groups like the Tahoe Fund also work as a catalyst to bridging the funding gap to support environmental projects that have an emphasis on improving sustainable recreation, transportation, stewardship, forest health, and the lake's clarity.
Right here in the northeastern tip of Lake Tahoe, the Incline Village General Improvement District works with local community partners to follow through on its Sustainability Program which continually benchmarks its carbon footprint in Incline Village/Crystal Bay using some key indicators; read about it here. IVGID's Waste Not division also provides information on recycling, water conservation, and how to be Bear Smart. 
Happy Earth Day…and Happy Planting!