This is the month of March Madness, which is a term that mainly applies to college basketball tournaments but it's also where the weather can go either way in Incline Village/Crystal Bay. It's totally possible to ski at Diamond Peak in the morning and then go golfing in Reno in the afternoon or go fishing on Lake Tahoe early in the morning and then go for a snow biking session later. Here are some outdoor adventures in and around North Lake Tahoe that apply to the shoulder season where you can get your daily workout in and have fun doing it:
Take a Memorable Tour with the Tahoe Adventure Company
From guided/sunset/full moon/star snowshoe tours in the winter to kayaking, standup paddleboarding, backpacking, and mountain bike tours in the summer, the Tahoe Adventure Company has everything you need to create an experience that you'll never forget.
Led by highly skilled passionate outdoor enthusiasts, Tahoe Adventure Company believes that by using your own two feet to explore Tahoe, you're preserving the local wilderness areas by producing less emissions and being less disruptive to the forest animals who also live here. Tahoe Adventure Company can also take you to places that are only accessible by foot. Visit https://tahoeadventurecompany.com/ for information about how to book your family adventure, team building event, or unique Tahoe tour.
Ski at Diamond Peak in the Morning, Play Golf in the Afternoon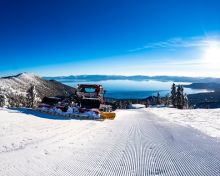 As we get more into spring, the early morning freshly groomed Crystal Ridge run matched with the views of Lake Tahoe create the perfect start to the day. It helps that Diamond Peak is so close to the center of Incline Village too, as it allows you to ski or ride for a couple of hours and can get on with the rest of your day.
Speaking of the rest of your day…Incline Village is so close to Carson City and Reno that it's possible to play a round of golf in the afternoon to top off your day. Golf courses such as Eagle Valley in Carson City and LakeRidge in Reno are only 30 miles away.
Just be sure to check the websites of these recreation venues to read up on current COVID-19 policies and reservations. Photo Courtesy of Diamond Peak Ski Resort
Go Fishing on Lake Tahoe in the Morning, Snow Bike in the Afternoon
Based at the Sierra Boat Company in Carnelian Bay, the Reel-Lentless fishing boat charter company takes aspiring anglers on half day, full day, or custom private tours through the crystal-clear waters of Lake Tahoe in search of mackinaw lake trout, brown or rainbow trout. Captain Danny Salvador uses special equipment to find and hook Tahoe fish, and allows you to take them home cleaned and bagged. To make a reservation, call 530-318-5525.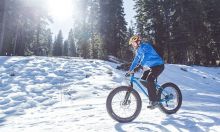 Tahoe fish are known to bite early in the morning, so if you take a half-day charter out then there may still be time to get a little snow biking in over at Northstar California in the afternoon. Fat Tire half-day bike rentals cost $58 and are rented through its Cross Country, Telemark, and Snowshoe Center.
Photo Courtesy of Northstar California
Be Safe as You Celebrate St. Patrick's Day
Fortunately, Nevada businesses are starting to open back up as the coronavirus pandemic starts to get under control and places like Crosby's Tavern, the Paddlewheel, Glasses Wine Bar, the Alibi Incline Public House, and the Tahoe Biltmore are likely to have some Irish-inspired food and drink specials. No matter how you celebrate this festive event, just be sure to wear a mask, social distance, and call an Uber or take the TART to get around if you need to.