In a year when nothing is normal, there are still fun, family-oriented events to look forward to, and Northern Lights Family Day is one of them.
Coming up this Saturday, December 12, Northern Lights Family Day is part of the Northern Lights Festival, which is ongoing through December 31 in the communities of Incline Village and Crystal Bay.
All Northern Lights Festival activities offer a safe way to enjoy holiday activities outside of home.
"This holiday season is alive and well this year," says Linda Offerdahl, co-organizer of the Northern Lights Festival. "The family-friendly activities will all be organized under the Washoe County COVID 19 Guidance program, so we can all safely enjoy these local holiday events."
Family Day Activities
Northern Lights Family Day offers multiple events for all ages to enjoy. Tip: Before you go, have children write their letters to Santa. Then bundle up and head out for an afternoon of fun from 4 to 7 p.m.
Santa Stop
Make your first stop at Santa Stop at the Chateau in Incline Village. After driving through a winter wonderland, you will be greeted (from a safe distance) by elves, Santa and Mrs. Claus, who will hand out Santa Kits that include cookies for Santa, reindeer food, hot cocoa mix and other goodies. Children can drop their pre-written letters to Santa in the North Pole Express Mailbox at the end of the drive-through. Due to safety requirements, the Drive Through is for Incline Village/Crystal Bay residents only, and one proof of residency is required per car. Reservations are required; make them here. See the Santa Stop website for complete details.
Sweet Cozy Chalet
Next, head over to Sierra Nevada University's Sweet Cozy Chalet on the Patterson Hall patio. They'll be offering for free s'mores and holiday music from 4 to 7 p.m.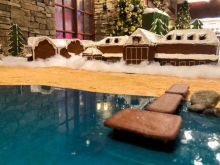 Gingerbread Village
Then head just down the street to the Hyatt Regency Lake Tahoe Resort, Spa and Casino, where they'll be welcoming visitors to see their Gingerbread Village. Children love seeing the magical, edible village, and this is a great place to pose for a holiday family photo. This year's creation is a replica of the resort, complete with its on-site lakeside cottages, the lake, local wildlife and a fresh dusting of snow. The gingerbread resort replica was constructed using more than 600 pieces of gingerbread, 50 pounds of cake flour, 50 pounds of powdered sugar, 40 pounds of fondant, 25 pounds of sugar, 25 pounds of butter, 20 pounds of brown sugar, 10 pounds of egg whites, 10 pounds of glucose, 10 pounds of Rice Krispies, five gallons or molasses, five pounds of marshmallows and two pounds of ground ginger. It will be located in the resort's lobby until December 21.
Northern Lights Driving Tour
Top off the afternoon with the Northern Lights Driving Tour. The colorful and festive lighting displays through business areas and neighborhoods are on display throughout the month of December, but you wouldn't want to end Northern Lights Family Day any other way. Download a map here or pick up a printed map at D.G. Menchetti Visitor Center in Incline Village.
One Last Stop
To make mom and dad's day out even better, we recommend ending your Northern Lights Family Day visit with a stop at a local restaurant for take-out dinner. See Takeout Tahoe for ideas on where to go.
While you're out at any Northern Lights Festival activities, please consider supporting local merchants, shops, restaurants and bars. When you Shop Local Shop Small, you support the entire community.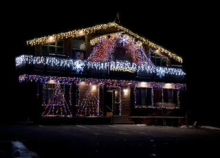 Northern Lights is sponsored by the Incline Village Crystal Bay Visitor Bureau, IVGID Parks and Recreation Department, and the newly formed Incline Village Crystal Bay Association (IVCBA), which is dedicated to bring businesses and nonprofits together for advocacy and to create a more cohesive community. All COVID safety protocols for the event can be found at northernlightstahoe.com.