One of the themes that we've seen played out over and over in the Tahoe area during the COVID-19 emergency is that of unity. Community members from all corners of the region have pulled together to help businesses, families and individuals make it through the hardships brought on by the pandemic.
A perfect case in point can be found in #TahoeTogether, a coordinated campaign developed by four of Tahoe's leading organizations in order to provide support to the community. The Tahoe Prosperity Center, the El Dorado Community Foundation, the Parasol Tahoe Community Foundation and the Tahoe Truckee Community Foundation encourage contributions to the local COVID-19 relief funds. The coordination and organizational frameworks provided by these organizations can help ensure that donations are directed to where they will have the largest impact and help those hit the hardest in the Tahoe area. The work of these organizations also means that local donations stay in our local communities.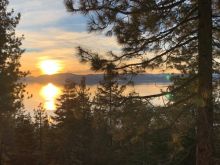 The Tahoe Prosperity Center is a regional organization that strives to improve the economic health and quality of life in the Tahoe area by uniting the local communities and has created a #TahoeTogether Facebook page to help share good news and success stories across the area. CEO Heidi Hill Drum noted that the center is appreciative of all the hard work the three community foundations are doing. "We look forward to the next steps in the recovery planning by helping local businesses as they begin to re-open." Photo at right: Facebook, Tahoe Prosperity Center.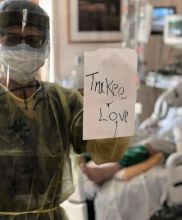 "Our region has three dedicated philanthropic organizations that bring strategic direction and resources together to serve our region. As I look to regions that are not served by community foundations, I am grateful for those donors who established and continue to support our missions. It makes a difference so that we can respond to immediate needs and invest in our future," says Stacy Caldwell, CEO of Tahoe Truckee Community Foundation. This organization has been working in the community for more than two decades, matching organizations with the resources necessary to create a positive impact in the area. Photo at left: Facebook, Tahoe Truckee Community Foundation.
The Parasol Tahoe Community Foundation is dedicated to cultivating community philanthropy to enhance and preserve the quality of life at Tahoe. "The three community foundations have been giving to non-profits in our region for decades and have demonstrated time and again that we're built for this. We are coordinating efforts yet remain flexible to ensure the funds go to where they are needed most," states Claudia Andersen, CEO of the organization. 
"Thanks to the great work by our three Community Foundations, the mechanics are already in place with our COVID-19 Relief Funds, and we're here to help," notes El Dorado Community Foundation Executive Director Bill Roby, whose organization's goals are to support inspired vision, respond to community need and achieve an expansive and inclusive concept of community well being.
In addition to the #TahoeTogether page on Facebook, the Tahoe Prosperity Center's online resource guide, available at the center's website, contains helpful information from federal, state and county sources, as well as information about assistance that is available for residents, businesses and non-profit groups.