Now that we've got some fresh snowfall, driving to Reno or Carson City to get your Christmas shopping done can feel a bit daunting (especially with a stay-at-home order still in place). Fortunately, there are several shops in Incline Village/Crystal Bay that sell unique, memorable, affordable, and practical gifts for anyone left on your list. These local shops also greatly appreciate the business in a time of such uncertainty and trying to stay open. Support local business and wow your friends and family with these gift options that you don't have to drive far for:
Handmade At the Lake, 865 Tahoe Blvd. Ste 104 in the Centerpoint Building, Incline Village
Now in its new location, Handmade At the Lake (in the Centerpoint Building behind the old Wildflower Café) is packed with locally made stuff that includes functional and decorative kitchen/bathroom items, Lake Tahoe Christmas tree ornaments, and ceramics made by Incline Village artists. However, Handmade At the Lake is best known for its variety of quilts made by the owner herself that act as table runners, wall hangings, or used as lap blankets to keep people cozy and warm. Open Monday-Friday from 11 a.m.-5 p.m. or click here to go to Handmade At the Lake's website.
The Potlatch, 930 Tahoe Blvd. Ste 401, Incline Village
From warm winter clothing and slipper socks to gorgeous jewelry and art that celebrates Lake Tahoe, The Potlatch has all sorts of neat and amazing gifts. The kids section has fun and interactive games and venture to the far back has sassy soaps, lotions, and Lake Tahoe-themed stickers. There's a whole section of lovely-scented candles, mugs, and home décor that will bring that warm Tahoe cabin feel into any space surrounding an impressive jewelry case with gems the color of Big Blue. The tiny campfire kits, Ugly Sweater soap, and packs of Tahoe toffee make great last-minute stocking stuffers. Open daily from 10 a.m.-6 p.m.
 
Tahoe Forest Hospice Gift & Thrift, 893 Tahoe Blvd., Ste 1500, Incline Village
At a time when Incline Village/Crystal Bay locals need it the most, Tahoe Forest Health System recently opened a new thrift store right here in the Village on the corner of Tanager and Enterprise streets. Here you can find clean, gently used secondhand clothing, accessories, books, household goods, shoes, and more. Aside from checking people off your list, you're also donating to a good cause. Open Monday-Saturday from 10 a.m.-4 p.m.; visit the Tahoe Forest Health System website for updated store hours and donation drop-off information.
Tahoe Family Solutions Thrift Store, 797 Southwood Blvd., Incline Village
The TFS Thrift Store on Southwood Boulevard also has a wide selection on all kinds of things- it's likely you will stumble onto something that's not on your list but will make the perfect gift. I like to shop the TFS Thrift Store for greeting cards, gift wrap, sporting equipment, boots, and warm winter sweaters and/or name brand men's flannels. It really does have "steals on great deals" and proceeds benefit local families in need. Open daily from 10 a.m.-5 p.m., click here for more information.
Karma Consignment Boutique, 868 Tahoe Blvd., Ste 12, Incline Village
Located in the Christmas Tree Village, this consignment shop has a great selection of kids, women's, and men's winter clothing along with a huge selection of sterling jewelry and handmade beanies. Besides the beanies, Karma has plenty of gifts to keep your loved ones warm and comfortable. Open Monday-Saturday from 11 a.m.-5 p.m. and Sunday from 11 a.m.-5:30 p.m.; visit Karma Tahoe's website for information about how its consignment program works.   
Panache, 930 Tahoe Blvd., Ste 204, Incline Village
Right next to Raley's and the Urgent Care in that little cluster of shops is Panache- a place that carries stylish women's clothing such as Sugarlips sweaters and faux leather leggings; home décor items that include St. Nick inspired candles and uncut purple crystals; and coffee table books about Christmas cocktail-making and Clarity by Dylan Silver which is all about Big Blue. Find a new chic outfit for yourself and keep an eye out for other fun items that'll be sure to bring a smile to your friends' faces like a pair of socks with bad words on them. Open daily from 10 a.m.-5 p.m.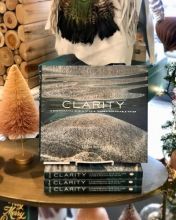 Village ACE Hardware, 910 Tahoe Blvd., Unit 103, Incline Village
People may not think of a hardware store as having Christmas gifts, but an essential business this place has been open during the pandemic and has all the essentials anyone could ever need to get through the holidays. Find gardening supplies, toolkits, paint, and even special décor items that turn a house into a home.  
Hyatt Regency Lake Tahoe Gift Shop and Provisions, 111 Country Club Dr., Incline Village
Near the Hyatt's lobby and guest check-in area, its gift shop has necessities, accessories, unique T-shirts, other winter clothing, and more. While you're there, also be sure to check out the Provisions coffee shop that serves Drink Coffee Do Stuff espresso drinks plus beer, wine, sweets, and healthy snacks.
Around since 2015, Happy Tiers Bakery has been creating unique and memorable wedding, birthday, and other cakes in Incline Village bringing smiles to recipients of all ages and stages in life. Currently during COVID-19 and Christmas, Happy Tiers has stepped it up a notch by adding new items such as gingerbread house kits; Christmas cookie centerpieces; holiday boxes full of pies and breakfast dessert items; hot chocolate bombs; brunch boxes; and more. And the best part is that they deliver locally; visit the Happy Tiers Bakery website for more info.
Village Interiors, 868 Tahoe Blvd., Ste 9, Incline Village
For more than 30 years, the team at Village Interiors have taken great joy in designing home and office spaces by providing window and floor coverings, artwork, home accents, and more that help define a room. Village Interiors also sells everything from furniture and bedding down to functional yet pretty home goods.  They're open Monday-Friday from 10 a.m.-5 p.m. or visit them online here.
High Sierra Gardens, 866 Tahoe Blvd., Incline Village
Located next to the Christmas Tree Village, High Sierra Gardens is a soothing, relaxing place to go in the middle of your shopping extravaganza to pick out the perfect arrangement. Holiday flowers are certain to spruce up any home, and they make great gifts or just a personal decorative adornment for any room. Buy a Deck the Halls Centerpiece comprised of Stargazer lilies, red roses, white wax flowers, and cushion poms or opt for the Candy Cane Carnations or traditional vibrant poinsettia bouquet. Visit the High Sierra Gardens Christmas Flowers page to see what they have in stock.
Village Market, 770 Mays Blvd., Ste 2, Incline Village
Many people think of the Village Market as just a grocery store, but it is a great place to go for all kinds of other items if you don't want to deal with holiday crowds anywhere else. Along with keeping toilet paper and Rombauer well stocked, the market has greeting cards and eclectic miscellany when combined makes the perfect holiday gift. In the same location, Village Meats is known to have delicious sandwiches and cook-at-home gourmet deli items if you want to grab lunch and a coffee during your shopping spree. This family-owned market conveniently located next to the post office is open Monday-Saturday from 8:30 a.m.-7:30 p.m. and Sunday 9:30 a.m.-7 p.m. Visit the Village Market's website to see its current specials.